About us
Our Center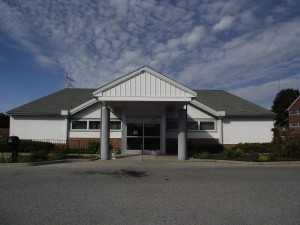 Our beautiful facility is located at 168 Sunny Slope Dr. in Bridgeton, NJ. We serve anyone in the Cumberland County New Jersey area who is legally blind with visual acuity of 20/200 or less in the better eye with best correction, or with a visual field of 20 degrees or less. Our program objective is to provide for the social, educational, physiological, psychological, and recreational needs of the blind and visually impaired through a variety of activities and projects. Our goal is to assist the visually impaired to function more effectively in their homes and community, with a long range goal of self-sufficiency.
Our facility currently has space for up to 50 people which is twice the number that currently come on a daily basis. We are always looking for qualified volunteers from churches, youth groups, schools and individuals to help with our programs. If you have a questions or would like to volunteer please submit your information on our contact us page. Our business hours are Monday-Friday 8:30am-3:00pm.
Our Founder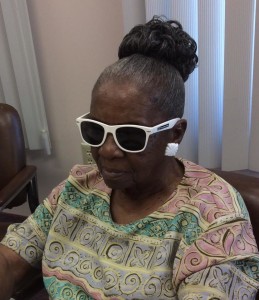 Our Founder, Margaret Winchester, was a student at Bridgeton High School in the late 1930s when she started experiencing vision problems. By the time she was 21 she was blind. A doctor diagnosed her with retinitis pigmentosa, a degenerative eye disease causing a progressive loss of vision.
But her life continued as if it was normal. She later married and had five children. She adapted to live successfully with her disability.
In the early 1970s, Winchester said she began having repeated dreams of God telling her what her purpose in life was. Eventually she met with Charles Fisher, the late Cumberland County board of freeholders director, and told him she wanted a place where visually impaired individuals in the county could meet.
Her idea came to fruition in 1978, when the nonprofit Margaret Winchester Enrichment The center for visually impaired has welcomed many from throughout the county over the years. Winchester led the facility from 1978 until she retired in 2008.
"We had a very good beginning," Winchester said. "The progress the center has made has been wonderful. I'm thankful. We've helped several people."
Today, her daughter Margaret Winchester-Graw, runs the facility. The center runs a daily program Monday through Friday. People come to the facility during the day, and they are transported from their homes by bus via the Cumberland Area Transit System.
The day program, which is free, involves several services such as education sessions, arts and crafts, brail instruction, exercises, reading from a video eye machine or Scanning and Reading Appliance, which reads words back to the individual, and other activities.
Winchester-Graw said the goal of the program is to help blind or visually impaired individuals live as independently as they can. But one issue in recent years has been getting individuals to make use of the facility.
"We're trying to reach out to more in the blind community," she said. "We can house more people, but a lot of them are set in their ways and don't want to come out of the house."
Winchester-Graw said they have an outreach volunteer who visits visually impaired individuals around the county to get them to visit the center in hopes of returning.
"Once they pay a visit, they automatically start coming," Winchester-Graw said. "Once they meet others that have things in common, then they loosen up. They find out life doesn't have to be (lived) by yourself and alone. They just have to see and feel the difference and have the feel of someone picking them up and bringing them home everyday."